Saturday Orange Sticky Notes Letter Writing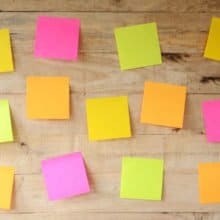 Print PDF
The inspiration for today's blog post is from talking with my friend Nancy this morning resulting with Saturday Orange Sticky Notes Letter Writing! This bit of whimsy also includes sharing an article from BBC Skillswise site on Using Sticky Notes for Planning Our Letter Writing.
Saturday Orange Sticky Notes Letter Writing
The question was posed to me with if you make the time to clip a newspaper or magazine article and include a Sticky Note to it along with a short message to the sender – does it "count" as a letter? Is it letter writing? To which I replied with a resounding YES! Thoughts of bulky lumpy mail enclosures I've blogged about here come to mind; from last year 3D bulky lumpy dimensional mail, and Encouraging Letter Writing enclosures.  Over the years I've received very thoughtfully written letters like these from Nancy and while they are short their sincerity rings true and are happily received!
The fact that the person thoughtfully took the time to not only think about it but to take action and send a note along with the article is very thoughtful and to which I say bravo!
BBC Skillswise article
It is fun along this line of writing about Sticky Notes Letter Writing to come across an article on actually using sticky notes to help PLAN your letter writing. Over at the BBC Skillswise from 2011 an article, Writing a letter – Planning a letter using sticky notes which are an "Exercise in planning a letter." This is a link to their PDF to download the worksheet. I'm including a small image here for illustration.
Thank you to my friend Nancy for the inspiration for today's blog post.  Not to ruin the surprise, I'll be printing off today's blog post and sending to her along with an Orange Sticky Note affixed with my message – of course! Happy Saturday!

Anchors Aweigh,  
Helen  
---
Sticky Notes Letter Writing Attribution & Thank you to the following who are referenced today