Everything Summer Camp Postcards Camp Grams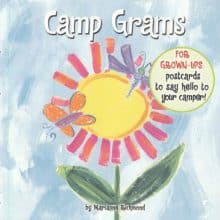 Print PDF
The 4th of July week includes these Everything Summer Camp Postcards Camp Grams. And this is a link to my 2015 blog post on "Letters from Camp"; and from 2016 Easy Letters to Write Your Kids at Camp.  
About Everything Summer Camp
Both of these products their Postcards and Camp Grams are found at their Everything Summer Camp site.  The Everything Summer Camp Blog first began posting on February 19, 2013; it is impressive seeing their consistency of posting regularly every month since their first post to the present.  Everything Summer Camp is the home of C&N Footlockers founded in 1987 by Craig and Nancy Cornell.   It is fun to look among their previous blog posts, especially reading one of their employee bios, Get To Know Ryan A Little Bit Better from 2014!
Everything Summer Camp Camp Grams: For Grown-Ups
"We know you love hearing from your camper when they're away, but make sure they hear from you too with the Camp Grams: For Grown-Ups. Included in the parent version of Camp Grams are eight traditional postcards, four mini-letters and four two-way postcards in which you write your message, send it and then your camper can write on the other side and send back to you. Your camper will love getting the letters from you back home with such fun designs!"
Everything Summer Camp Postcards 10 pack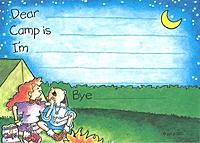 The image I'm including here is the Everything Summer Camp Postcards "giggle" style 10 pack.  There are 15 different style patterns from which to choose your pack, getting 10 of the same design.
"These pre-printed postcards give your camper a head start on writing home. The 'fill in the blank' style makes writing easier, especially for younger campers, and the designs are great. Don't forget to pre-address and stamp them for your camper!"
In conclusion, as I mentioned above they launched their blog in February 2013. There must be something about beginning your blog in February as I launched mine on February 26, 2015 and have been blogging daily since then encouraging old-style correspondence letter writing; today is daily blog post #862!
Thank you for joining me today. Here's to getting out marshmallows and making smores! 

Anchors Aweigh,  
Helen