Marimekko 100 Postcards Card Book & Marimekko Unikko Notecards Stationery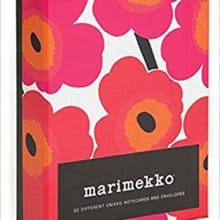 Print PDF
Today's daily blog post is on using postcards for our letter writing with Marimekko 100 Postcards Card Book (image is shown below). And I'm so happy to have found this box of Marimekko Unikko Notecards Stationery using their iconic pattern, see upper left.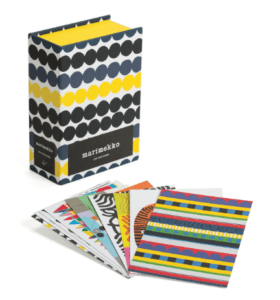 If you find you go through a lot of postcards like I do for letter writing, this set looks to have a great variety of designs. Seeing the set of 100 postcards priced less than $9 makes them an affordable option,  they are in a matte finish.
"Collecting a mix of Marimekko's classic prints and sought-after new designs, this treasure trove of color and pattern is housed in a keepsake box."
Marimekko Notes: 20 Different Unikko Notecards and Envelopes

Card Book
If you are thinking you know the name Marimekko, it was helpful checking them out with Wikipedia –
"Marimekko is a Finnish home furnishings, textiles and fashion company based in Helsinki. It made important contributions to fashion in the 1960s. … Two designers in particular, Vuokko Nurmesniemi, with bold stripes, and Maija Isola, with large simple flowered prints such as the Unikko poppy, created hundreds of distinctive patterns and helped to make Marimekko a household name across the world."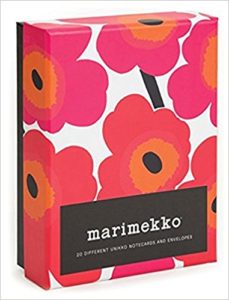 It is fun to be able to find these Unikko notecards and envelopes in a box of 20 for less than $14.
I'm placing my order for a set of these postcards and already looking forward to their arrival. Stay tuned!

Anchors Aweigh,  
Helen  
---
Marimekko Unikko Notecards Stationery Attribution & Thank you to the following who are referenced today
Marimekko: 100 Postcards Card Book – October 29, 2014, by Marimekko Image above, and excerpt.
Marimekko Notes: 20 Different Unikko Notecards and Envelopes Card Book – May 12, 2015 by Marimekko (Author), Two images
Marimekko, Twitter: @marimekkousa – "Finnish fashion and design house renowned for its original prints and colors since 1951."
Wikipedia Marimekko, excerpt.